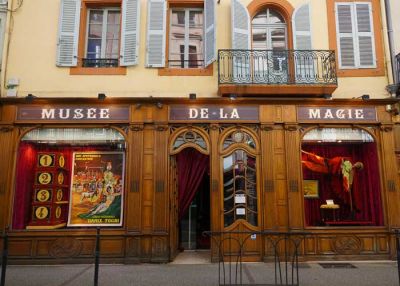 La Magie Museum
Visits "on request" from Monday to Friday between 12 p.m. and 1:30 p.m. and after 5 p.m. or on Saturday groups only
In Pamiers, there is a fantastic place, with a thousand secrets where history and wonder await you. Enter and discover the fascinating world of magicians at the Museum of Magic!
A unique collection of objects, posters, illusions and costumes that belonged to the biggest names in modern magic. Travel to the heart of the 20th century at the time of the great inventors. A cultural, unique and resolutely MAGICAL adventure!
Can you unlock the magicians' secrets? !
recreational activities
The Museum of Magic is full of fun activities. As a family, take part in the Treasure Hunt, solve the puzzles and create optical illusions.
magic school
For 6-16 year olds: during school holidays, learning the basic techniques of prestidigitation. 1 hour lesson.
Maximum 10 students per class. Reservation on 07 77 07 03 47
Museum Nocturnes
Want to spend a convivial evening with family or friends in a unique setting? This year the Museum opens its doors for private magic evenings. Come and discover the so-called proximity or close-up magic and the art of mentalism. Before your eyes, our magician performs a multitude of spectacular tricks.
On reservations, limited to 30 people and lasting 1h30, these original evenings will make you spend an excellent evening.
Information and reservations on 07 77 07 03 47
Shop
The Museum offers a wide range of professional magic items for all ages.