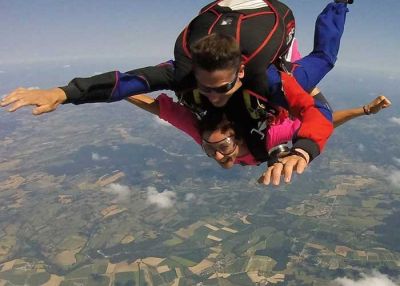 Tandem Parachute Jump
With the initiation jumps offered by the Center Ecole de Parachutisme Sportif d'Ariège, discover freefall in the best possible way!
Probably the fastest way to discover the joys of freefall, the TANDEM initiation jump allows you to make your first jump after a few minutes of explanations on the ground.
Possible from 15 years old and up to 90kg within the age limit, it allows you to discover both free fall and the piloting part of the parachute.
Medical certificate by a general practitioner ESSENTIAL
What is Tandem?
After a short preparation on the ground, you put on your harness and climb into the plane. And here we go, you can feel the adrenaline rush. Get ready for an intense and unforgettable experience. You leave the plane at 4000 meters altitude. Attached to your instructor, you apply the instructions given during ground preparation. Your instructor controls the fall. It's up to you to enjoy unique sensations.
Around 1500 meters, your instructor deploys the main parachute. You can then take the controls and fly your parachute, enjoying the view. The landing takes place just in front of the hangar allowing your family and/or your friends to fully follow your adventure and thus benefit from your broad smile.
What is Tandem Handi? We also offer Handisport skydiving to allow people with reduced mobility to make a parachute jump. The beneficiary, dressed in a specific suit allowing the monitor to mobilize or free the lower limbs of the passenger, is attached to the monitor by a harness.
The HandiFly parachute jump is similar to a classic tandem jump since it is a jump from an airplane attached to a monitor. Incredible sensation, feeling of freedom, guaranteed adrenaline rush. Call to discuss options based on disability.